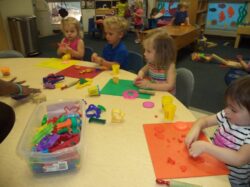 Through the Open Arms Lutheran Child Development Center in Buckhead, we provide a Christian curriculum to more than 100 children on a daily basis, as well as a Georgia Pre-K program. Open Arms provides child care and development of the highest quality, designed to meet the needs of working parents. At Open Arms, each child is guided to develop his or her potential in every aspect of life within the shelter and nurturing relationships of Christian love. We operate on the assumption that each child is an individual and must be allowed to grow and learn at his or her own rate in order to develop a healthy self-image. Working with children is a sacred task — Open Arms Buckhead will help each child grow spiritually, emotionally, physically, and intellectually.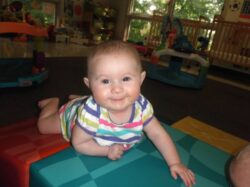 We would love to have you stop in to see our Center, meet our teachers, and discuss your family's needs with our staff. We encourage you to visit the Open Arms website — then give us a call or drop us a line to schedule a time that is convenient for everyone.
Open Arms History
In 1985, Ascension's long-range Planning Committee began to explore ways by which its now valuable property could be put to better use. In 1986 the committee recommended a two-fold mission plan to the congregation, to build a child development center adjacent to the church, and to explore purchasing property in North Fulton County for the purpose of establishing a new Lutheran congregation to serve the needs of this rapidly growing area.
The congregation approved the recommendation and set about a massive capital fund drive to accomplish these goals.
In September 1989, Open Arms Lutheran Child Development Center, located on the Lutheran Church of the Ascension property, opened to receive children.
In October 1989, The Reverend Kevin Elseroad accepted Ascension's call as Mission Developer and Pastor for Alpharetta. The first worship service was held on November 19, 1989 in a former Fulton County school building nearly adjacent to the newly acquired property.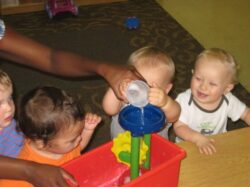 It was envisioned that a child care center be built there to provide the financial stability needed to establish a new congregation and enable it to have its own place of worship. Since then Ascension's daughter congregation, Christ the Shepherd Lutheran Church, has become a large and flourishing congregation of the English District of the LCMS, and it all began with an Open Arms Lutheran Child Development Center.
The success that God provided in Atlanta and Alpharetta was quickly extended to two additional Lutheran churches in the Atlanta area. The patent was then given to the LCMS district office to use in additional church plantings. Shortly thereafter, The Open Arms Institute, Inc. was chartered to sustain and expand the concept of church planting with childcare ministry. The success of Open Arms at these four Lutheran churches led all of us to unite and register the name and logo with the U. S. Patent and Trademark office.
Today, the Open Arms Lutheran Child Development Centers continue to teach and care for hundreds of children in body, mind, and soul.