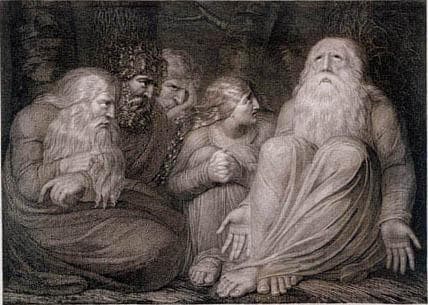 Current Bible Study: The Book of Job
Job is a complicated book, asking life's most difficult questions. For millennia, it has confounded many as well as been a blessing to countless generations. It is one of the most brutally honest and raw books of the Bible, and at the same time provides some of the brightest rays of hope. Come, and discover what it has to say about you and your existence on earth. Even more, may it reveal to you a God of comfort, who accompanies us at all times, and even dares to enter into the difficulties of our human condition. As our guide, we will be making use of Concordia Publishing House's LifeLight resource. Copies are available for just $12.00.
Day & Time: Sundays at 9:00 A.M., Tuesdays at 10:45 A.M.
Location: Sundays in church fellowship hall, Tuesdays in church overflow room
Upcoming Studies:
Popcorn & 'Pologetics: The Case for Christ
Need a boost by mid-week? This six-week discussion-based investigative look into the Christian faith will do just the trick. Adapted from
Lee Strobel's now classic apologetics text, The Case for Christ, you will explore how God has grounded His plan of salvation in the people, places, and events of history. Our Lord has left evidence behind for us to find, and it has His fingerprints all over it. Discover not just the what of faith, but also the why with this unique study!
Day & Time: Wednesdays, at 7:30 P.M. from August 7 – September 11
Location: The Millers (address in directory)
---
Baptism: The Christian Identity
Who are you and what are you here for? Two of your most important questions can be answered simply by studying the miracle of Baptism. Don't miss this essential four-week study!
Day & Time: Sundays, at 9:00 A.M. from August 11 – September 1
Location: Sundays in church fellowship hall
---
Minor Prophets Bootcamp
Throughout this twelve week study, each Sunday will offer an overview of one of the twelve minor prophets of the Bible. General themes and highlights of each text will be drawn out. Not only will the historical context be discussed, but also how the prophet points all generations to Christ and still speaks to us today. Books covered will be according to the following order: Hosea, Joel, Amos, Obadiah, Jonah, Micah, Nahum, Habakkuk, Zephaniah, Haggai, Zechariah, and Malachi. Buckle your seatbelts, it's going to be a fast ride!
Day & Time: Sundays, at 9:00 A.M. from September 8 – November 24
Location: Sundays in church fellowship hall